When the COVID-19 pandemic hit, schools around the world had to close to protect students and staff from the virus. Even now, as the school year ends and things start to get under control, school districts are doing their best with limited budgets and time constraints to reopen in a safe manner. Opening up schools carefully means placing new requirements on administrators and school IT staff to enforce social distancing and provide better online learning tools.
Technology Needs of In-School Social Distancing
Even as students reenter schools, various levels of social distancing must be maintained depending on the local situation. This means that IT admins will likely need to cover a larger area with a higher number of wireless access points or replace APs with more powerful radios or the newest wireless technology. This technology challenge comes at the cost of new AP and the PoE Switching infrastructure and connections needed to handle them, as well as the overhead of managing and supporting the new APs.
Is There Enough Bandwidth for Online Learning?
Modern learning apps are no longer limited to simple websites and low-bandwidth content. As we've all discovered, real-time video chat, HD streaming, and powerful multimedia learning platforms help keep students and faculty connected for efficient learning. So in addition to more coverage, increased performance is needed on-site as well. More and more teachers are working from their rooms to support students near and far on hybrid schedules. School IT managers will need to provide the latest technology to ensure that everything from the simplest tablet to the latest WiFi 6 enabled laptops can connect students and faculty with confidence.
Larger WiFi Coverage Means More School AP Roaming
On-site distance learning, remote access, and a more spread-out student body create more need for devices to seamlessly disconnect from one AP, roam on campus, and reconnect to another AP. IT managers need to ensure they have the hardware and software available to allow device roaming while maintaining security and network confidence.
How Insight WiFi 6 APs Solve the Technical Challenges of Reopening Schools
To solve schools' connectivity challenges, NETGEAR Business has launched two WiFi 6 Access Points with integrated Insight remote management capabilities. These new WiFi 6 APs join our existing range of compatible AC WiFi 5 Insight Access Points. They also pair nicely with a range of Smart Managed PoE switch offerings with optional Insight cloud network management. Secured by Insight, all of our access points allow for flexible and scalable AP deployments, with no additional AP controllers, local servers, or cloud keys required. Finally, all Insight Wifi 6 APs have 2.5Gbps multigigabit Ethernet back-haul to ensure wireless connection to the local network is not bandwidth constrained.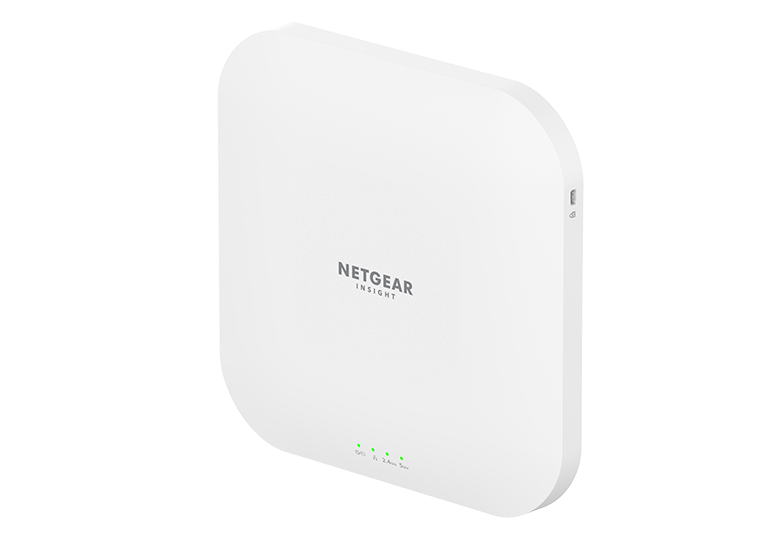 WiFi 6 AP models designed for Schools and SMB
New – WAX620 – WiFi 6 AX3600 Dual-Band 2.5g Multi-Gig Insight Managed Access Point with PoE
WAX610 – WiFi 6 AX1800 Dual-Band 2.5g Multi-Gig Insight Managed Access Point with PoE (Optional Power adapter "PA" version available.)
WAX610Y – Outdoor WiFi 6 AX1800 Dual-Band 2.5g Multi-Gig Insight Managed Access Point with PoE
Easy Setup and School Access Point Management
To get started with Insight, simply connect your NETGEAR Insight Managed Access Point(s) to a PoE switch (NETGEAR makes many versions for different port configurations and power budgets), then download the Insight App or connect to the Insight Cloud Portal.
Insight has integrated tools that make your APs easy to find, claim, and manage along with any other Insight devices. One user interface available on multiple platforms makes your job of managing school WiFi easy.
Try the NETGEAR Insight wireless cloud management demo to see how Insight can work for your next wireless deployment.
Are you an MSP or Reseller? Insight Pro can provide multisite and multi-tenant networking capabilities to your wireless and network deployments.